Wuhansentai environmental protection co. LTD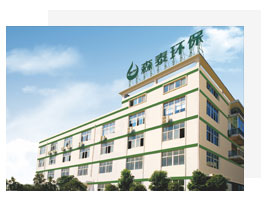 Wu Hansen Thai environmental protection co., LTD., founded in 2005, is a collection of environmental pollution control facilities investment, construction, operation, technical services in one, specializing in high concentration, degradation of waste water treatment and industrial environment comprehensive treatment of state-level high-tech enterprises. In 2015, the company entered the new third board (stock code: 832774) and entered the first innovation layer. In 2017, the company obtained the capital increase of China renewable resources development co., LTD., the leading enterprise of China's circular economy, and the company became its holding subsidiary. In recent years, the company has developed rapidly with an annual growth rate of 30%, and its main business income and total assets have been increasing year by year. In 2018, the company will lay out six regional centers and build a comprehensive service system for the environment, and seize a new commanding height from the new starting point of reform. Company expand the market, with the strength design including engineering special environment engineering (water pollution prevention and control engineering), environmental protection engineering contracting, municipal utilities engineering construction general contracting, professional mechanical and electrical installation project construction contract, pollution control facilities operation service ability evaluation qualification certificate, business covers industrial park, printing and dyeing, chemical fiber, chemical, pharmaceutical, leather, paper making, food, brewing, slaughtering, aquaculture, municipal utilities, and many other industries and fields. Company in PPP, EPC, O&M environmental governance investment construction patterns, such as industrial park facilities, use "one enterprise a pipe", "the enterprise standard", "three linkage" and other advanced industrial park environment management model, to build "third party governance" + "wisdom green cloud platform" comprehensive environmental services system. The company's business covers all over the country. At the same time, it has gone abroad with its own technical strength, and has successively expanded the overseas markets of One Belt And One Road in Indonesia, Russia and Vietnam.

Company driver development by innovation, and huazhong university of science and technology, wuhan university, wuhan university of science and technology, wuhan university of science and technology, central south university for nationalities, many universities and research institutes of hubei province central astri, maintain a long-term good relations of cooperation. Companies take full advantage of the college scientific research resources, play to its own industry advantage, combined with the project of accumulated experience, the implementation of production, study and research, the research and development for ten several patent technology has the leading domestic level, formed to "PUAR anaerobic treatment technology", "multiple catalytic oxidation technology" as the core technology of independent intellectual property rights system, the high concentration of refractory organic wastewater and industrial park water environmental governance has unique technical advantages, for many domestic listed companies, industry leading enterprises, multinational group company and southeast Asia, India and other customers to provide solutions of pollution control, Won widespread praise. Scientific and technological innovation has become the driving force for the rapid development of the company.
The company wins customers with good faith, emphasizes honesty and good faith, abiding by the law, and cultivates the spirit of contract. We will highlight our credit CARDS to the outside world, advocate win-win cooperation and abandon zero-sum game, so that customers can feel the sincerity and pattern of suntech environmental protection in the implementation of every contract and the cooperation of every project. In recent years, the company won the "heavy contract, keep promise enterprise" in wuhan, law-abiding integrity unit ", "civilized unit of labor security, etc. Series title of honor, the company's construction of spiritual civilization fully affirmed by the local party and government departments, improve the company's reputation, enhance the soft power and competitiveness of the company.
"Style, quality and art" is the culture of suntai environmental protection. "suntai environmental protection, ecological protection" is the mission of suntai environmental protection. Company will be in line with rigorous style of pragmatic, pioneering and innovative spirit, the idea of service first, for the customer provides the omni-directional, the whole process of quality service, for the beautiful Chinese contribution to the wisdom of the Thai people, for the construction of ecological civilization and fulfill a environmental protection enterprise social responsibility.